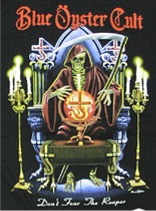 My heart is black and my lips are cold
Cities on flame with rock and roll
Three thousand guitars
They seem to cry
My ears will melt and then my eyes

Let the girl, let that girl rock and roll
Cities on flame, now, with rock and roll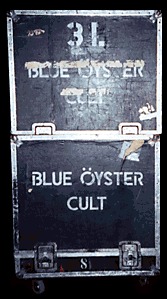 Last saturday night, May the 4th, the legendary
Blue Oyster Cult
(or BOC for those who are down with the cult) visited the small but comfortable
IMAC theater
in Huntington, before starting a tour throughout Europe.
Now I won't lie to you; I'm no hardcore BOC fan, unlike some of the guys that were there. Like many of my favorite bands, (Motorhead, Cream, Steve Miller Band)I was introduced to BOC when I heard it in
Darryl Nau's
SEEK & DESTROY video. I do know and love about six or seven of their songs, and the only member of the group I knew of was Buck Dharma, the rockin guitarist who sings the songs most people know BOC for; (Don't Fear) The Reaper, and Burnin for You. My first reaction when seeing the guys walk out on stage: OWWWW! FUCK YEAH BOC!!!! My second reaction: wow, this is one strange lookin group of dudes.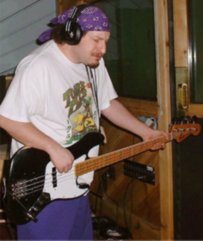 I didn't have too much of a problem with the three members who have been around the most, Buck Dharma, Eric Bloom, and Allan Lanier. Buck is a short guy, doesn't look like much of a rocker, and plays a disgusting looking guitar. Allan Lanier looked like he belonged in a old folks home. He seriously looked like he was in his late 70's, with decent black clothes, but bright white old man sneakers. Eric Bloom was the only real rock n' roll looking guy, sportin the shades and denim.
Then comes the "hip" young bassist, Danny Miranda. Wow. In his mid thirties with a nicely sized beer belly, Chad and myself totally agree that this guy looked like a total tool. He was the only one dancing around, you know getting into it just a little too much. I was so tempted to just yell "hey buddy, you werent in the band when this song was written, you've just been playing with them for a few years. STOP TRYING TO TAKE THE SPOTLIGHT FROM BUCK!!!!" He does deserve some respect though for a killer bass solo during "GODZILLA"
Their drummer Bobby Rondinelli, although being another large man with a huge belly, he used to play with Black Sabbath and also rocked pretty hard with some insane drumming skills, and a huge five foot gong. Thats gong, not Bong you fuckin pot heads.
Overall it was a very cool concert, with my favorites The Reaper, Burnin for you, Godzilla, Cities on Flame with Rock and Roll, ETI and others being played. Although occasionally having to look down and enjoy the music, not the view, I still had a good time. And of course, what would any trip out to Huntington be without a stop by the king of fast food, Checkers.